WINEGROWERS EVENTS
Wine tasting events including our new virtual tastings.

RESTAURANT EVENTS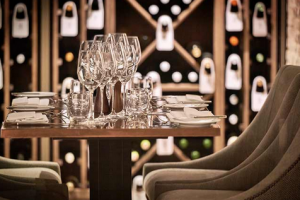 Look out for some of our customer events taking place this year in their restaurants.

Annual Winemakers Lunch at Le Talbooth, Dedham.
Our Annual Winemakers Lunch and Wine Tasting has been a tremendous success with our customers and we will again be looking to stage the event soon.
In the meantime we will be looking to schedule a tasting event at our Oak Barn later this year subject to guidelines and will keep you updated!
'Cellar Door Tasting Club' and wine tasting events at home.
During this current period of uncertainty and restrictions we have all had to become that little bit more creative to help lift our spirits and find ways of safely engaging with our friends and family. One of the big successes of the year has been the boom in virtual events and the world of wine has benefitted from the ability to reach customers through the power of modern technology.
'Cellar Door Tasting Club'
In 2021, we are bringing to you the Promotion Wine 'Cellar Door Tasting Club' and plan to host a series of events featuring proprietors from different wine regions.
For further information and if you would like to register your interest to join our tasting club directory please get in touch.
Additionally, if you would like us to help coordinate your own virtual wine tasting event and create a fun and highly informative occasion get in touch to discuss your requirements and make your event truly memorable!
"Introducing.." evenings at our Oak Barn Offices
We held a short series of "Introducing.." evenings during which we invited wine makers or vineyard representatives to come in and showcase some of their wines in an intimate setting with a small audience at our Oak Barn Offices in Stoke-by-Nayland.
We kicked off with Alejandro Galaz from Kalfu Wines and V9 by Vìna Ventisquero, Chile in July followed by  Duncan MacDonald from Thorn-Clarke Barossa Winemakers, Southeast Australia.
These evenings proved a real success and gave a wonderful opportunity to talk to the grower and hear about their experiences and journey through the world of winemaking.
Click on each of the images below to view the list of wines featured for each evening.