WINEGROWERS EVENTS
Introduction evenings & tasting events.

RESTAURANT EVENTS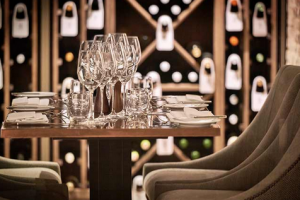 Look out for some of our customer events taking place this year.

Annual Winemakers Lunch at Le Talbooth, Dedham. Sunday 17th May 2020.
We are delighted to announce this year's Winemakers Lunch will be held at Le Talbooth,
Dedham on Sunday 17th May 2020.
The day presents you with a wonderful chance to meet a selection of growers from different parts of the world and a chance to sample a selection of their wines. The tasting will be followed by a delicious 3-course lunch specially created by the team at Le Talbooth and accompanied by wines matched to each course. We will shortly provide further information about the wines, lunch menu and event pricing information.
"Introducing.." evenings at our Oak Barn Offices
We recently launched a series of "Introducing.." evening where we invite a winegrower or winery representative to come in and host a tasting of some of their wines with a small audience in an intimate setting at our office in Stoke-by-Nayland.
We kicked off with Alejandro Galaz from Kalfu Wines and V9 by Vìna Ventisquero, Chile in July and this month we featured Duncan MacDonald from Thorn-Clarke Barossa Winemakers, Southeast Australia.
The evenings have been a real success and proved very informative, and a wonderful opportunity to talk to the grower and hear about their experiences as well as the journey of the vineyards.
Click on each of the images on the right to view the list of wines for each evening.
Look out for further evening tastings with guest growers which we will announce on this page and on our Facebook and Twitter pages.
Please click below for more information and news of other events taking place at The Bull & Willow Room. For reservations book online or contact Umesh on tel: 01621 893385.
The Waterfront Bar Bistro, Regatta Quay, Ipswich
Cheese and Wine Event
Tuesday 4th February 2020, £22.50 per person.
For reservations please contact The Waterfront Bar Bistro on 01473 226082 or email waterfrontbistroipswich@gmail.com.
The Waterfront Bar Bistro is pleased to present a special event showcasing cheese produced by British cheesemakers, and Promotion Wine is delighted to have been asked to accompany each cheese with a carefully selected wine that we believe will complete your enjoyment.
Cheese to be showcased on the day with wines to match:
Baron Bigod, Bungay Suffolk.
Hugely complex taste and masterfully balanced. Traditioal Artisan Brie flavours and the only traditional 'Brie-de-Meaux' style cheese produced in the UK. Cow's Milk, Unpasteurised, Organic.

Wine choice: Murphys Unoaked Chardonnay, Big Rivers, Murray Darling, Australia. 13.5% abv. (V)
Chilcote Innes Brick, Highfield Dairy Staffordshire.
Smooth and creamy with sweet notes of hazelnut combined with warm toasty flavours. Goat's Milk, Unpasteurised, Organic.
Wine choice: Sauvignon Blanc, Honu, Marlborough, New Zealand. 13% abv.
Baronet, Neston Park Wiltshire.
Buttery with a lovely nutty flvour. Based on a Reblochon recipe. Cow's Milk, Pasteurised, Organic, Vegetarian.
Wine choice: Chardonnay, Crocodiles Lair, Bouchard Finlayson, Walker Bay, South Africa. 13.5% abv. (V, Ve)
Westcombe Cheddar, Evercreech Somerset.
Deep complex flavour with a mellow lactic tang, ctirus notes, hazelnut and caramel. Cow's Milk, Unpasteurised, Organic.
Wine choice: Carrizal Rioja Carianza, Spain. 13% abv.
Young Buck, Newtonards Northern Ireland.
Robust and rounder flavour with a high level of minerality. Cow's Milk, Unpasteurised, Organic.
Wine choice: Churchill Graham Reserve Port, Portugal. 20% abv.