Heart of Suffolk Distillery
Betty's Gin
42% Abv | 70cl
Styled on a London Dry Gin, Betty's has a slight orange undertone and is best served with a slice of orange, a handful of ice and a premium tonic water. This complements the nine carefully chosen botanicals which are used to create the unique, modern and refreshing taste.

Da Mhile
42% Abv | 70cl Bottle
Fresh from the Celtic Coast, this unique recipe has been making waves.
Launched on the 1st of March 2014 (St David's Day) the Seaweed Gin is made with a hand selected variant of botanicals added to a small batch gin. Designed to complement seafood it is infused with handpicked seaweed from the Celtic coast for three weeks, giving it a lovely light green hue before being triple filtered and bottled. Try as a G&T with Elderflower tonic and a slice of lemon.
Mc Queen
42% Abv | 50cl Bottle
True hand crafted spirit born from passion made honestly and with integrity. Personally hand Crafted by Dale Mcqueen.
The result of over 100 trial recipes and feedback from over 3000 tasters, provided by Heriot-Watt University and Gin Club Scotland. With all the results collated on a spreadsheet to help them pick and choose the best taste for their Gin. The nose is juniper led with a clean distinct forestry aroma. A burst of juniper gives way to a creamy rich vanilla sweetness with a light spice, ending with a crisp lime finish.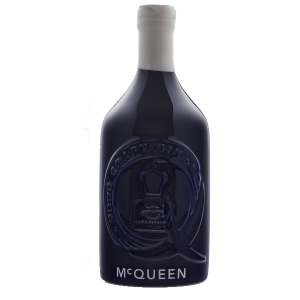 Manchester
40% Abv | 50cl Bottle
Truly an experiance not to be ignored for any real Ginatic out there! The taste is very similar to sherbet sweets!
Manchester Vodka is used as the base spirit for the gin which is made using honey, a nod to the mead background and the symbol that represents the Manchester Motif. Sumptuous & ultra complex gin based off manchester's diversity of culture, spirit & undying passion for the new!
Sharish Blue Magic
40% Abv | 50cl Bottle
An exciting style of gin from Portugal that offers something refreshing and distant from the regular Gins on offer. The Sharish has a "magic touch" that when added to tonic water the mixture reacts with the PH level of the tonic and the liquid passes from blue to a light pink. The colour comes from a natural botanical known as the blue pea flower. Fresh berry fruits on the nose with citrus and spice on the palate. A favourite in the office here at Promotion Wine.
Elephant
45% Abv | 50cl Bottle
Can a drink change the world? Probably not, but it can do its bit to help.
The perfect drink for gin and Elephant lovers alike. Each batch is named after a past great tusker. With 15% of all proceeds going to foundations fighting the illegal ivory trade. They searched the Africa continent for botanicals that haven't been used before; Devil's claw, Lions Tale and Buchu are just part of the rare mix. The result? An award winning London Dry gin with a distinct nose and strikingly smooth taste.
Aviation
42% Abv | 70cl Bottle
"I've tried every gin on the planet and Aviation is, hands down, the best. Also, I don't recommend trying every gin on the planet. Stick with this one."
– Ryan Reynolds, Owner, Aviation American Gin
Aviation belongs to an entirely new category of dry gins. These gins embody a shift away from the usual overabundance of juniper toward a more forward balance of botanicals. Aviation explores the rich, floral and savoury notes of lavender, cardamom, and sarsaparilla to capture the lushness, spice, creativity, and freshness of the Pacific Northwest.
Fifty Pound Gin
43.5% Abv | 70cl Bottle
Distilled in single batches, produced in small quantities in order to preserve quality. Made from a secret family recipe during the great depression and named ironically after the Fifty Pound distillery Tax known as the 1736 Gin Act.
Floraison
G Vine
Treat your guests with the avant-garde of Paris, the perfect partner to tonic and the party starter. Made with a grape spirit base and 10 botanicals.
Floraison
40% Abv | 70cl Bottle
Smooth, vibrantly floral, round and smooth evoking the essence of springtime in the vineyard.
Nouaison
43.9% Abv | 70cl Bottle
Complex, intense & spicy. Perfect G&T as a base for cocktails.
Nouaison
London Dry Gin
Bullards Gin
London Dry Gin
42.5% Abv | 70cl
This award-winning, handcrafted gin is made in small batches using Bullard's unique copper still. They infuse the purest grain spirit with the subtle aromatic influence of Tonka beans and nine secret botanicals to produce a clean, crisp, balanced premium gin. Smooth enough to drink straight and flavourful enough to drink with your favourite mixer; Bullards dry gin is perfect however you drink it.
Strawberry & Black Pepper Norwich Gin
40.0% Abv | 70cl
With the aim to distil and bottle the pure essence of summer so it could be enjoyed all year round. Bullard's Strawberry & Black Pepper gin is Initially sweet to the taste thanks to the infusion of strawberries, the addition of black pepper adds a slight kick, rounding off each sip with a pleasantly dry finish. Summer in a bottle.
Strawberry & Black Pepper Norwich Gin